PJP #033 - Bob Hoover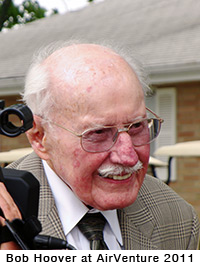 This is a special AirVenture episode featuring comments and stories related by the legendary Bob Hoover in a press briefing.

Bob Hoover is considered by his peers as the "pilot's pilot". He has served his country in war and peace as a fighter pilot, test pilot and as a master of aerobatics.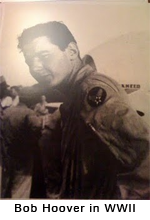 During World War II, he was sent to Casablanca where his first major assignment was test flying the assembled aircraft ready for service. He was later assigned to the Spitfire-equipped 52nd Fighter Group in Sicily. In 1944, on his 59th mission, his malfunctioning Mark V Spitfire was shot down by a Focke-Wulf Fw 190 off the coast of Southern France and he was taken prisoner. He spent 16 months at the German prison camp Stalag Luft 1 in Barth, Germany.

He managed to escape from the prison camp, stole an Fw 190, and flew to safety in the Netherlands. After the war, he was assigned to flight-test duty at Wright Field. There he impressed and befriended Chuck Yeager. Later when Yeager was asked who he wanted for flight crew for the supersonic Bell X-1 flight, he named Bob Hoover. Hoover was Yeager's backup pilot in the Bell X-1 program and flew chase for Yeager in a Lockheed P-80 Shooting Star during the Mach 1 flight. He also flew chase for the 50th anniversary in an F-16 Fighting Falcon.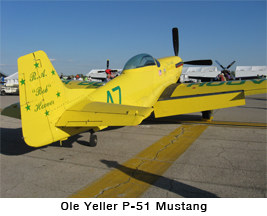 He left the Air Force for civilian jobs in 1948. This included a brief time with Allison Engine Company and finally test/demonstration pilot with North American Aviation where he went on to Korea teaching the pilots in Korean war how to dive-bomb with the F-86 Sabre, and visited many active-duty, reserve and air national guard units to demonstrate the plane's capabilities to their pilots. Hoover flew flight tests on the FJ "Fury," F-86 "Sabre," and the F-100 "Supersabre."

In the early sixties, Hoover proposed the idea promoting the North American name by demonstrating one of North American's most famous products, the P-51 Mustang fighter, at airshows around the country. N51RH, known as "Ole Yeller" was flown at airshows all over the country. AirVenture 2011 fans were privileged to have it on hand for an up-close inspection thanks to it's current owner, John Bagley of Rexburg, Idaho.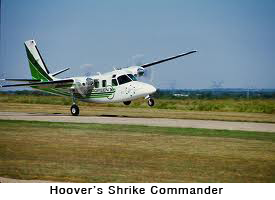 Bob's famous demonstrations in Old Yeller and the Shrike Commander, in which he performed his legendary energy management maneuvers with both engines shut down were also nothing short of spectacular.


LINKS:
Podcast: Play in new window | Download
38:37
37.4 mb

Show notes: http://www.pilotsjourneypodcast.com/pjp033

(c) 2011, Fully Stewed Productions
All rights reserved